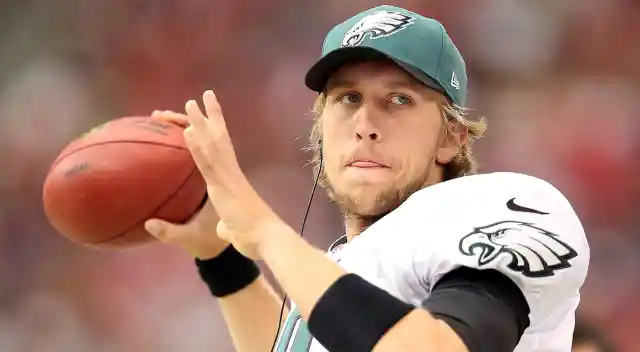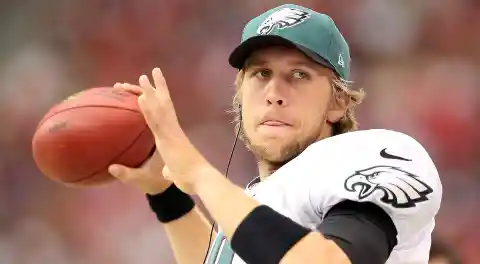 Quarterback Nick Foles just signed a two-year extension with the St. Louis Rams. The deal is worth $24.5 million, not including the $1.5 million remaining from his rookie contract. Foles still has one year left on his contract, bringing the terms to three years and $26 million. His new deal was completed the night of August 7th. "I want to be here. I want to focus on my teammates. I want to be all-in, and I don't want to have to worry about contract issues," Foles told the media. He continued,"I am very fortunate to be here. I'm fortunate to have a contract. I'm very thankful." The quarterback played for the Philadelphia Eagles last year before he was traded to the Rams in the off-season.
In his three seasons with the Eagles, Foles threw for 6,753 yards, 46 touchdowns, and 17 interceptions. Foles has yet to play a game for the Rams, but he apparently has done enough in practice to impress head coach Jeff Fisher. Fisher told reporters that in the short period of time that Foles has been with the team, he has showcased tremendous leadership qualities. "It is what he's done on the field early in his career thus far in the league and what he's done for us since he's got here. He gets the game, he understands it and he's got tremendous leadership qualities," Fisher stated. The coach added,"He can settle in, and now the players can rally around them and he can rally them and we'll go on and win a lot of games."
The Rams were 6-10 last season, and finished 4th (last place) in the NFC West. Their record is not reflective of how well the team competed last season, but the team must be more consistent in order to make it to the playoffs. The Rams drafted University of Georgia star running back Todd Gurley in the first-round this year, but he is currently recovering from an ACL tear. Coach Fisher recently spoke about the running back's progress. "We are going to take our time. I don't have to see him in a preseason game to play him in a regular season game," the coach explained. Fisher stated it is doubtful the running back will play any preseason games. Gurley is making significant progress, and Fisher believes he's about a few weeks away from being able to return to the field.