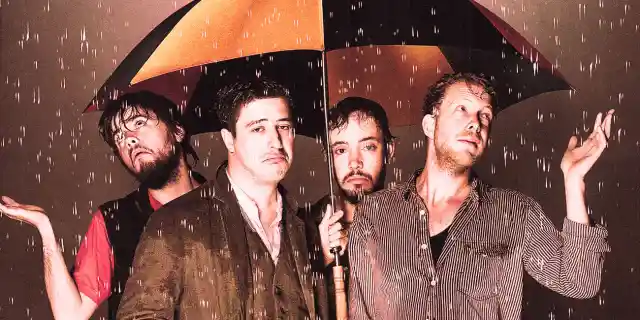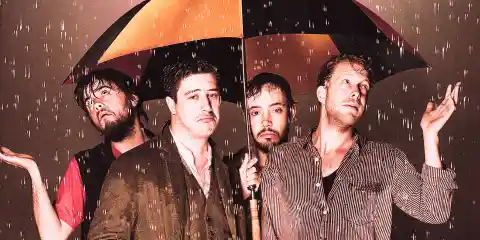 Earlier, we brought you part one of our list of 15 interesting facts about British folk rockers Mumford and Sons. Now, we are bringing you eight more tidbits about the multi-platinum-selling musical team of Marcus Mumford, Ben Lovitt, Winston Marshall and Ted Dwane.
Number Eight: One Member Married His Childhood Pen Pal. Mumford and his wife, actress Carey Mulligan, were actually pen pals back in England. After losing touch, they were reunited by mutual friend Jake Gyllenhaal. Less than a year later, Mumford and Mulligan were married.
Number Seven: One Member Was Born in the United States. Although his parents are English, Mumford was actually born in California, making him both a U.S. and English citizen. When he was six months old, his parents moved back to England, where he grew up in southern London.
Number Six: They Love Literature. When Mumford wrote the songs for the band's debut album, Sigh No More, he took quite a bit of influence from literature. His songs make reference to works by Shakespeare, Homer, Plato, G.K. Chesterton, Chretien de Troyes and John Steinbeck.
Number Five: Big Break at the Grammys. The band was already heralding praise for Sigh No More, but when they played with the Avett Brothers and Bob Dylan during the 2011 Grammy telecast, Mumford and Sons became a household name.
Number Four: One Member Helped Finish Lost Bob Dylan Demos. Not only did Mumford and Sons get to play with Dylan live, but Mumford actually got to help finish some of his music. When T-Bone Burnett put together a band to add music to some "newly discovered" Bob Dylan lyrics, he was asked to be a part of the action. On the album, titled Lost on the River: The New Basement Tapes, he provides backing vocals, electric and acoustic guitar, mandolin and drums.
Number Three: One Member Loves Techno. Marshall, who plays banjo for the band, is also into electronic dance music. He even created a solo project called Tech No Notice, but so far has not produced anything for public consumption.
Number Two: They Self-Financed Their First Album. Even though they didn't even have the money to own their own instruments, Mumford and Sons decided to self-finance their debut album. By doing this, the band was able to retain creative freedom throughout the recording process.
Number One: Recorded with Rajasthani Musicians in India. Along with Laura Marling, Mumford and Sons went to India to work with the nine-member Dharohar Project. The result of their time spent was a collaborative EP featuring four songs, including re-workings of Marling's "Devil's Spoke," and Mumford and Sons' "The Darkness." Thank you for reading our 15 interesting facts about Mumford and Sons. We hope you enjoyed them!