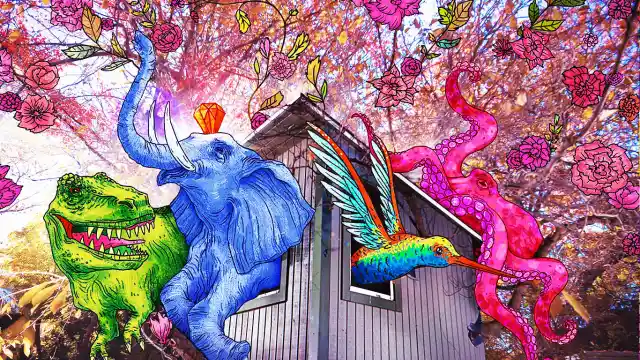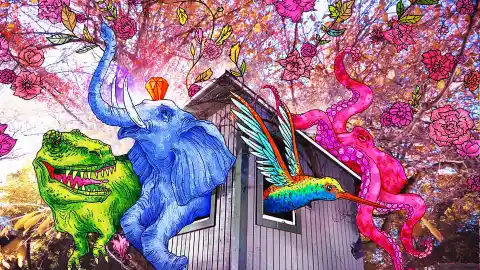 Formed in 2012, MisterWives is comprised of vocalist Mandy Lee, guitarist Marc Campbell, bassist William Hehir, percussionist Etienne Bowler, saxophonist Michael Murphy, and multi-instrumentalist Jesse Blum. The sheer number of members of MisterWives and the instruments they showcase should signal that their music is going to be captivating. With various hooks, runs, and harmonies, listeners are in for a treat. MisterWives released their first studio album, Our Own House on February 24, 2015, and it's only a matter of time until they infiltrate your headphones.
The title track, "Our Own House," gives a great insight into what the rest of the album holds. While it starts a little slowly, MisterWives really brings it up to speed and creates a very energetic track. The chorus, "We built our own house / With our hands over our hearts / And we swore on that day / That it will never fall apart" alerts listeners that Misterwives is here to do what they want to do and they're going to succeed at it.
"Not Your Way" is a stellar female-empowerment anthem that boasts lyrics such as "This is my body / And you don't have a say" and "This is my disposition / Apologies for breaking up tradition." They deserve a huge round of applause for making this the second track on the album, demonstrating how important this issue is to them. Musically, "Not Your Way" has a pronounced syncopated rhythm that evolves into a fun chorus that incorporates synth and horns. The first half of the last chorus adopts a much slower tempo, inducing the urge to form a kick line, almost mocking those who are attempting to keep females down, which then picks back up to its original tempo. "Not Your Way" is going to make a rocking music video.
Showing off her vocal virtuosity in "Reflections," this ultra-poppy track has a really grooving beat and a marked percussion section, making the chorus one of the more rememberable ones from Our Own House. The guitar runs are also somewhat reminiscent of No Doubt. This is the highest range Lee has employed yet, and because there are a lot of vocal runs, it would be easy for this to go so, so wrong in concert. However, Lee is extremely capable of recreating the same vocals heard on the album live – a skill that is going to catapult MisterWives to the next level.
Before looking at the title, I thought to myself "Wow, I feel like I'm in a wave." How fitting. "Oceans" is very groovy, harnessing a really interesting musical part with lots of synth. Two sections that stand out are each chorus, particularly when Lee sings "You're my everything," and the bridge. When Lee employs her vocal runs on "everything," it's just incredibly soothing. In the bridge, MisterWives suddenly flaunts their rock abilities as they heavily utilize their drums and bass. During the group vocals on "oceans" near the end of the bridge is debatably most enticing part of the entire song. While Lee certainly has a spellbinding voice, I do wish it was a little stronger when she hits high notes towards the end.
"Best I Can Do" transitions very nicely from "Oceans," getting the band back to their familiar energy. They maintain their beachy tone and as they get to the chorus, "It's the best I can do / Nothing is ever good enough for you," they even through in a little ska, demonstrated by the usage of their horns. I cannot stress enough how much liveliness MisterWives contains.
"Hurricane" is the ultimate "do what you want and don't look back" song, this one is also going to make a sick music video. For it being a "slow" song, it's still super powerful.
Despite "Coffins" being the slowest and most minimalistic song on the album, it definitely makes a name for itself. With its intriguing hook, and usage of strings, it's a contender for strongest song on Our Own House.
Oh, the chorus on "No Need For Dreaming" is simply amazing. The syncopation on both Lee's vocals and the band's musical part makes listeners pay attention because MisterWives is doing something big here. "I will follow you / 'Til there's no beat left within me / There's no need for dreaming / You shake the insides / Of what I hide / Brought me to life / Conquered all of my shy / There's no need for dreaming" will undoubtedly be the lyrics that you'll have engrained in your brain long after Our Own House ends.
"Box Around the Sun" highlights the more synth-pop side of MisterWives. The vocals are especially great on this track as Lee sings in a manageable range for the duration of the song and the group vocals are particularly notable, especially during the "on and on" lines. It's one of those songs where the artist hits everything so perfectly that it just makes you want to cry a little bit.
Taking on a more disco-y vibe and engaging another grabbing hook, "Imagination Infatuation" continues to display the flexibility of MisterWives as a group. This is another one where I personally wish Lee's voice was stronger, particularly at the end of each chorus. There's no doubt, however, that she owns the song as her own.
I was most surprised to discover that a song like "Vagabond" was included on Our Own House. Very piano-ccentric (the harmonies in the piano part are unbeatable) and soulful, this one would also be killer live. While I've said a couple times that I would prefer Lee's voice a little stronger at some points, I highly commend MisterWives and their producers for not tinkering with her voice on the album to make it something it's not, making it difficult to recreate live. Big props to them for that.
"Queens" began a little like an Ellie Goulding song. It becomes very powerful once it hits its stride in the chorus. Even though it's not fast-paced energy, it's still a very forceful effect.
Overall, MisterWives should be praised for the unbeatable energy they're bringing to the musical world. With ultra-catchy choruses, bold vocal runs, and genius musical parts, MisterWives has proved they're a force to be reckoned with. Additionally, their ability to recreate their music as perfectly as bands can live speaks to their strength as a group. In a world when autotune is relied on far too much, MisterWives should be commended on taking a very natural approach to their recording process, allowing them to deliver a true-to-recording experience when they perform their songs live.