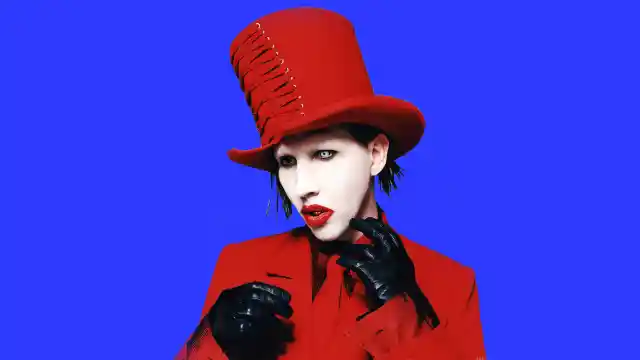 Frontman of the eponymous band, Marilyn Manson has quite the presence. The 46-year-old carries himself in a very youthful way and has made no secret about a lot of his public life. However, there are still some facts about this rock star that might surprise you. Here, we present 15 things you probably didn't know about Marilyn Manson. Check out part one below, and stay tuned for part two, coming soon!
Number Fifteen: He Was Raised Catholic. Not only was Manson raised Catholic, but he actually attended a Catholic high school for quite some time. He went to Heritage Christian School for the first through tenth grades.
Number Fourteen: His Name Is Not Marilyn Manson. Manson was born Brian Warner, and the origin of his band name came from combining the name of a sex symbol with the name of a serial killer. Marilyn Monroe combined with Charles Manson made Marilyn Manson.
Number Thirteen: He Has Been Engaged Three Times. Manson has been nearly married to Rose McGowan, Dita Von Teese, and Even Rachel Wood. However, he only ever followed through with marrying Dita Von Teese, and they divorced after just two years of marriage.
Number Twelve: He Has Some Acting Chops. Though Manson has never had any big roles in films, he has had several smaller roles, including in David Lynch's Lost Highway, and in Michael Moore's Bowling for Columbine.
Number Eleven: He Is a Grammy Nominee. Manson is undeniably talented, and his Grammy nods only confirm this. Though he has never won a Grammy, he was nominated in 1999, 2001, 2004 and 2014.
Number Ten: He Is Platinum. Though Manson has spent a lot of his career being scrutinized and criticized, he is markedly successful. Three of his albums have gone platinum in Canada and the United States, including Smells Like Children, Antichrist Superstar, and Mechanical Animals.
Number Nine: He Is a Strange Collector. In his home, he has a collection of vintage metal lunch boxes, medical prosthetics, and fake body parts as well. At one point, he even owned a fetus in a jar! You might even say he lives in a museum.