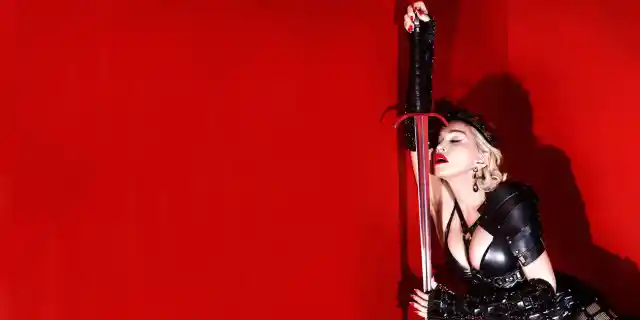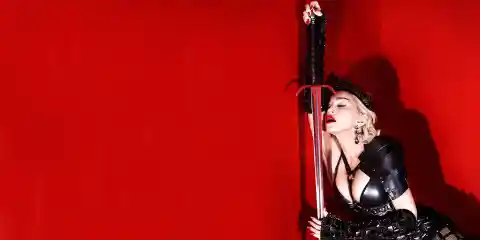 Madonna is in her renowned essence on her 13th studio album entitled Rebel Heart. Four years ago, the album, MDNA, garnered the hit, "Give Me All Your Luvin'," the pop anthem featuring Nicki Minaj and M.I.A. Nevertheless, this time, the queen is back to cause havoc.
The empowering song, "Living For Love," opens the show with a heart-wrenching good time and special moment that lifts the spirit from the depths of hell. Love is gonna lift her "up, up, up" from the "heartache" because she is "not dwelling on this crazy mess." It is spiritual pop music, inspired from "Just Like A Prayer," with its unyielding production contributed by producer Diplo. The track represents her artistry entirely. It is her best single since 2005's hit, "Hung Up."
The simple acoustic guitar production on "Devil Pray" is reminiscent of her song, "Don't Tell Me." The devil is on the prowl and is getting closer: "The ground beneath my feet getting warmer / Lucifer is near / Holding on / but I'm getting weaker / Watch me disappear." Approaching the end, it changes into a hand-clapping and soul-reforming ending. The song is a story about being lost, and numbing the pain with substances is cleverly placed into the lyrics.
The next track, "Ghost Town," is a mid-tempo heart-warmer track. Warming the atmosphere, Madonna sings, "When the world gets cold / I'll be your cover / Let's just hold onto each other." In this song, she sounds excellent presenting a precise vocal that rivals the ballad "Miles Away." This recording commands attention to its alluring rich lyrics and overload of heart and promise.
As the rhythm forms on the reggae-influenced song, "Unapologetic Bitch," swagger is moving through her performance when she sings, "See you trying to call me / But / I blocked you on my phone." The production is utterly electrifying during "It might sound like I'm a" part of the song when the beat breaks into a dance break. Releasing this song as a single would come as no surprise; it would just confirm the song's massive appeal.
The album's shocking club-banger, "Illuminati," will start a dance floor assault charge because of the marvelous production from the genius rapper, Kanye West. A memorable hook charms the ears: "Everybody in this party shining like Illuminati." In the song, she cleverly illumines, "The All-Seeing Eye is watching tonight, / That's what it is: Truth and the Light / The All-Seeing Eye is watching tonight, / Nothing to hide, secrets in sight."
The ebullient song, "Bitch, I'm Madonna," facilitates dance teams to put in overtime immediately. It is energetic and lively, brimming with a sarcastic brilliance. Minaj shows her boss authority: "I'm froze up, but my stove up / Cause he eatin' like it's his dinner." Honestly, Minaj's verse rides on borderline dismal. Madonna, ready for some fun, excitedly announces, "The bass is pumping, make me wanna screw the top off / Yeah, we'll be drinking and nobody's gonna stop us." Impeccable production by Diplo provides the song its framework, bonding the feel of high energy.
The following song, "Hold Tight," sounds remarkably similar to "Baby Don't Lie," from artist Gwen Stefani, production wise. Nonetheless, professing in a convincing vocal, Madonna sings, "A million miles later / We walked through the valley of the darkest night / We made it through the fire." Pulling the buzzer, she quickly sings to prove her love: "Hold Tight / Everything's gonna be alright." It is an enchanting song that is sure to become a successful radio hit with its soaring stadium sound.
In a sincere vocal delivery on the song "Joan Of Arc," Madonna meets vulnerability: "Anything they did to me, said to me / Doesn't mean a thing 'cause you're here with me now." She is vivacious in front of the cameras, but words can hurt because she is only human, and her virtue prevails. Make no mistake about it – this song wins favorable acclaim.
"Iconic" lifts the show, advising aspiring go-getters that "If you tried and failed, get up again / Destiny will choose you in the end." In time, the hook conquers: "There's another part that's underneath / Baby, don't you know you were / Meant to be, born to be, meant to be / Iconic." Madonna approaches the song with a grace of wisdom over a pulsating beat that is only fit for an icon like herself. Chance the Rapper shows up and impresses in his verse: "Put it on your wall / Put me in the school book, put me in the laws / Put me in a descent in the Synagogue." His verse arrives dressed with vision, assuring the world of his future that his dream now lives on the biggest platform for his career.
The unforgettable ballad, "Heartbreak City," startles with an epic conviction. Sharing a past relationship with vivid details, Madonna sings, "You had a few secrets / I was never told / Now everyone's talking / And / I'm the last to know." Reflective and unveiling in every possible way, she swarms in to break the heart in the most immaculate form.
"With all these corks we might need to have the base looked at," begins the mellow song, "Body Shop." This song drives like a V6 in delectable sexual innuendo. In the song, "Holy Water," the water is all kinds of unholy, but in the most alluring wicked style. Erotica arouses in the chorus: "Don't it taste like holy water (Bless yourself and genuflect) / Don't it taste like holy water, like holy water / Don't it taste like holy water (If you like it please confess)."
Following is the song, "Inside Out," which is about discovering someone's deepest darkest secrets and loving them for all the scars revealed. It is a suitable tune, but comes off as an album filler, to say the least. In all honesty, the best feature is the sample from the classic "I Wanna Know What Love Is," melody during the chorus. In the critical closing moment on "Wash All Over Me," the curtains close with an unexpected thoughtful sensation. The lyrics, "In a world that's changing / I'm a stranger in a strange land" and "Who am I / To decide what should be done / If this is the end then let it come," proves Madonna's skill.
Madonna shines on almost every inducing number inside the controversial Rebel Heart. Furthermore, she continues to thrive on when competition fades into dust. An unrestrained and more fierce woman appears on Rebel Heart. This is her greatest work since 2005's Confessions On A Dance Floor.