You just can't deny the enduring magic of Harry Potter, can you? From the quest for the Goblet of Fire to the showdown in the Deathly Hallows, the series and franchise has made its mark on us forever. We can't go to Hogwarts for real, sadly, but this new Harry Potter umbrella will bring the magic to you. After all, why let your geeky side hide in inclement weather?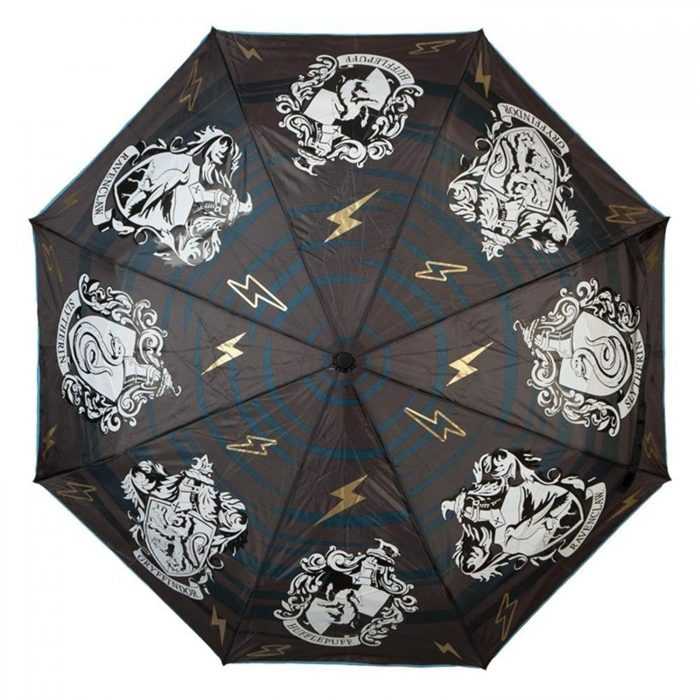 Any Harry Potter fan knows the crests and name of the various houses of Hogwarts and now an umbrella lets you display your Hogwarts pride with gusto. Made with a liquid-reactive property, the Color Change Harry Potter Umbrella features black-and-white house illustrations shifting to full-color when the umbrella gets wet. You'll see the Gryffindor, Ravenclaw, Hufflepuff, and Slytherin are represented here.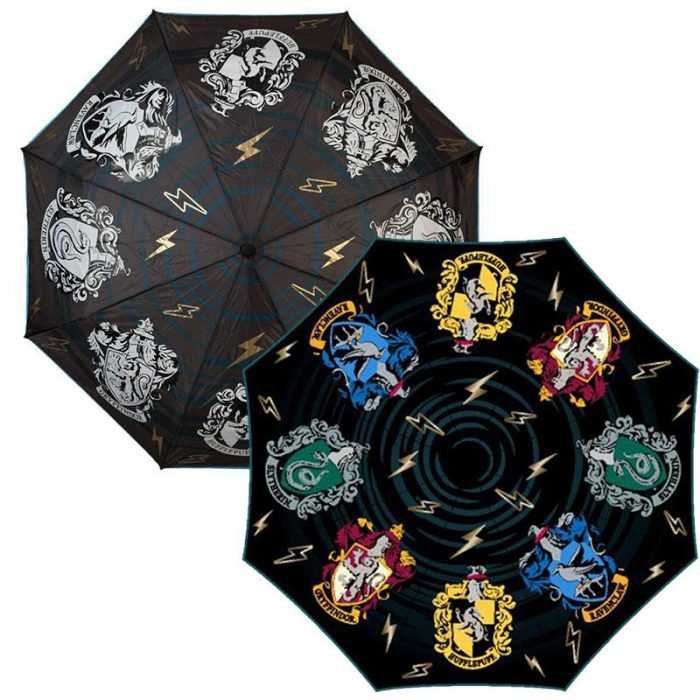 BioWorld is the manufacturer of the Color Change Harry Potter Umbrella and has depicted all of the Hogwarts houses around the perimeter of the umbrella then accented then with a lightning bolt reminiscent of Harry's famous scar. Not only do the house crests change when the umbrella gets wet, the material also reveals a light blue swirl design and the lightning bolts change to gold. It's pretty cool and is two umbrellas in one.
The entire umbrella is 100% polyester with the following measurements:
Dimensions – 34″ Diameter
Handle – Extended 20″
Closed and Folded 9″ x 3″
You'll probably be the envy of your Potter friends with this umbrella, but even if you aren't, you have to admit it's pretty cool. It even comes with a free carrying case with the Harry Potter logo.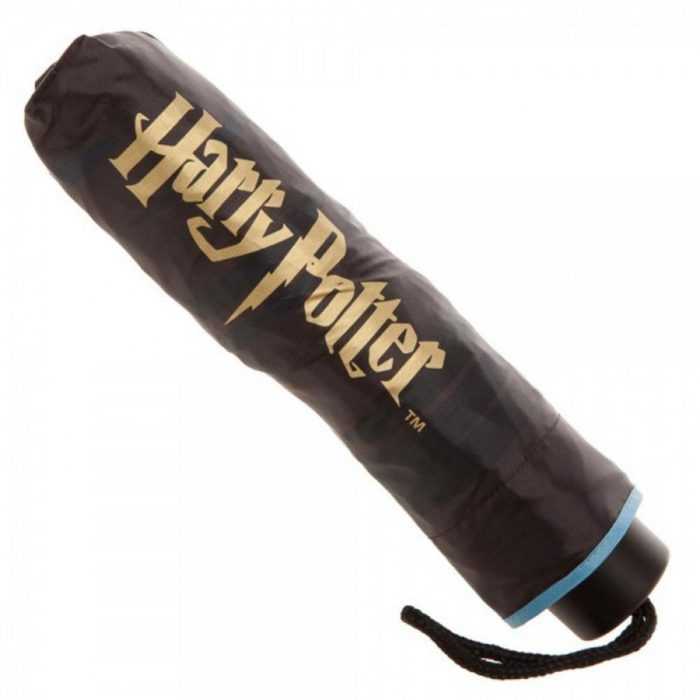 The Color Change Harry Potter Umbrella is sold at multiple websites including Hot Topic, Barnes & Noble, Amazon and Wands & Brooms. List price is $49.99 but right now, most places have it for about $29.99. It's a spellbinding accessory for any Harry Potter fan.
If that's not geeky enough for you, the same company makes liquid reactive umbrellas for Disney Villains, Star Wars, Deadpool, Nintendo and more.